Archmere Students Participate in Field Trips: A Return to pre-Covid Activities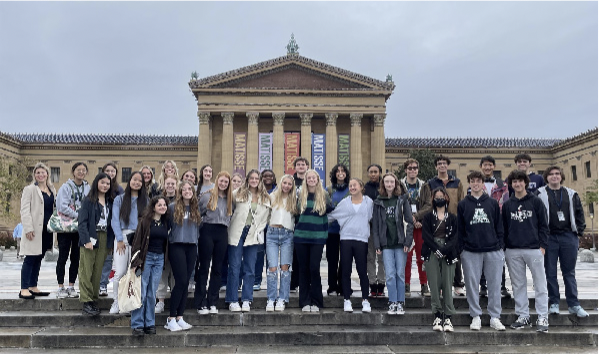 As the 2022-2023 school year led Archmere back into its first full year with limited COVID-19 restrictions, students
and teachers have been better able to take advantage of experiential learning through field trips. Throughout recent months, many classes ventured to unique landscapes and areas within the local region to supplement traditional lessons. From Mr. Hannagan's Law and Legal class traveling to the Consti- tution Center in Philadelphia, to the Cultural Perspective class visiting a restaurant that specializes in cuisine from Uzbekistan,
many Archmere teachers have been helping students get an up-close look at the ideas and concepts they've been studying in the classroom.
Additionally, some teachers have creat-
ed assignments and projects that revolve around a field trip experience. Student artists taking AP Studio Art or Junior Portfolio visited the Philadelphia Museum of Art to explore the galleries, finding something that sparked their creativity so they could design a corresponding piece back at Archmere. "We had a specific artist or piece in mind that we wanted to see — we took pictures of what we were inspired by, and we selected
a work that we wanted to make something inspired by, " AP 2D Design student Maggie Turner '23 explains.
Art teacher Ms. Silverman discusses the one-of-a-kind artwork that students could find inspiration from during their trip: "Students had the opportunity to explore 200 galleries of art, including new galleries and public spaces designed by visionary architect Frank Gehry. Additionally, the trip included tickets to the special Henri Matisse Exhibi-
tion on view."
Archmere's new Advanced Cancer
Research & Analysis course visited the Chil- dren's Hospital of Philadelphia in Novem- ber, receiving a tour of the research centers where much of the data and discoveries they discuss in class come from. "Students got to learn about how research is actually done, not just the glamorous side," explains ACRA teacher Dr. Wilcox. "A lot of research is getting permission and organizing your data, and they got to hear about that from several speakers. They also got to see the spaces where they may actually work during a potential internship with CHOP over the summer."
A common location for Archmere field trips before the pandemic, the University of Delaware's library hosted AP Seminar and AP Research students this fall. In addition to gaining experience in college-level librar- ies, many students at the UD library were inspired by the familiar faces they saw on campus. "They all said that Archmere's col- lege prep was extremely helpful," says Chris Treston '23. With these field trip experienc- es, students will gain greater confidence in themselves to put their classroom lessons into action.