Meet Me at Midnight' Review: A Loyal Swiftie Keeps Listening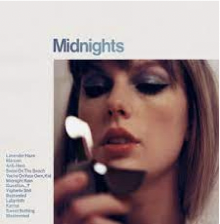 "Meet me at midnight". These are the first words off of Taylor Swift's tenth studio album, "Midnights". And meet her we did. When the clock struck twelve on October twenty first, Swifties and curious listeners alike took to streaming platforms to see if the pop singer's newest lyrics would prove to be as ground- breaking as those on her previous records. Before Swift broke any records with her new songs, she crashed Spotify, as unprecedented volumes of listeners flocked to the app.
As with any new artistry, I've heard mixed reviews about the album: "All of the songs sound the same", "It's a masterpiece","The lyrics are cringey", or "It's her best yet". These are just a few of the impressions I've gotten. Personally, I fall somewhere in the middle, leaning more towards favoring Taylor's "Midnight Mayhem".
It's 12:05 AM and I have Physics first period tomorrow. Everytime I search for "Taylor Swift" on Spotify I see "No Results Found". Great. By the time I see Taylor's sharply lined eyes gazing down at the billowing flame emanating from a silver lighter, I'm tired and disgruntled; "This better be worth it," I thought. After listening
to all thirteen tracks, in order of course, I was underwhelmed. I remember thinking that they all sounded exceedingly similar and I had trou- ble finding a song that immediately stuck out. I had also seen on Instagram that the album was initially labeled as a Rock album, but the tech- no beat and the poppy background vocals I just heard didn't remind me of The Stokes, Radio- head, or The Rolling Stones. As a loyal Swiftie, I wasn't ready to give up on the Midnights just yet, so I fell asleep that night to the chorus of Anti-Hero blaring in my headphones.
The next day, friends at school asked me what I thought of the album. Reluctant to say that it wasn't my favorite, I responded, "I don't know yet. I never really like any album the first time I listen to it. I'll tell you in a week." But I didn't have high hopes for any development in my preference. I wasn't a fan of the heavy synth underlaid behind many of the songs and was thrown off by some of the unorthodox similes, like comparing karma to "a cat purring in my lap cause it loves me." Classic Taylor, but a bit overboard for me. I figured I'd revert back to the songs I've always favored like "Enchanted" from "Speak Now" or "Cruel Summer" from "Lover. "
But I wanted to give "Midnights" a fair chance, so I kept on listening. Whether it was during my free periods, while running or lifting weights, or driving to Starbucks, I kept going back to the record. By the time a week had passed, I had a friend ask me what my favorite songs were. I looked at the track list and said,
"I really like "Lavender Haze". And "Maroon". And "You're On Your Own Kid". And "Mid- night Rain". And "Question". And "Sweet Noth- ing". And "Mastermind." I guess I like them
all." I hadn't realized it, but once again the poet herself had roped me into her world of love and heartbreak, innocence and maturity, and fame and insecurity. The more I listened, the more I appreciated how the lyrics seemed to represent phases and problems in Taylor's life that I could relate to. They're very emotional and vulnerable–a risky move that has paid off for the songwriter time and time again.
While it's difficult to pick, my favorite track on the album would have to be "You're On Your Own Kid." This song occupies track num- ber five on Midnights and earns its place along- side some of my other favorite Taylor songs, like "All Too Well" and "Dear John." I love the slow buildup to a typical-Taylor-god-ti- er-bridge which details Swift's progression from childhood innocence to intense stardom in just three minutes and fourteen seconds. By the end of every listen, I'm always winded from screaming lyrics like "I gave my blood sweat and tears for this" or "Everything you lose is a step you take." If I'm feeling particularly moved, maybe I'll even shed a tear or two. Needless to say, "You're On Your Own Kid" is definitely one of my new favorite Swift songs.
While opinions toward Swift's newest work are varied, there's no doubt that her artistry is one of a kind. She is certainly quite the Master- mind. Queue track thirteen.