Chocolate Chip Banana Bread by Skyler Bouchard (@diningwithskyler)
Jump to recipe
Prep time: 15 mins; cook time: 40 mins
1 loaf yields 8 servings
Chocolate Chip Banana Bread by Skyler Bouchard (@diningwithskyler)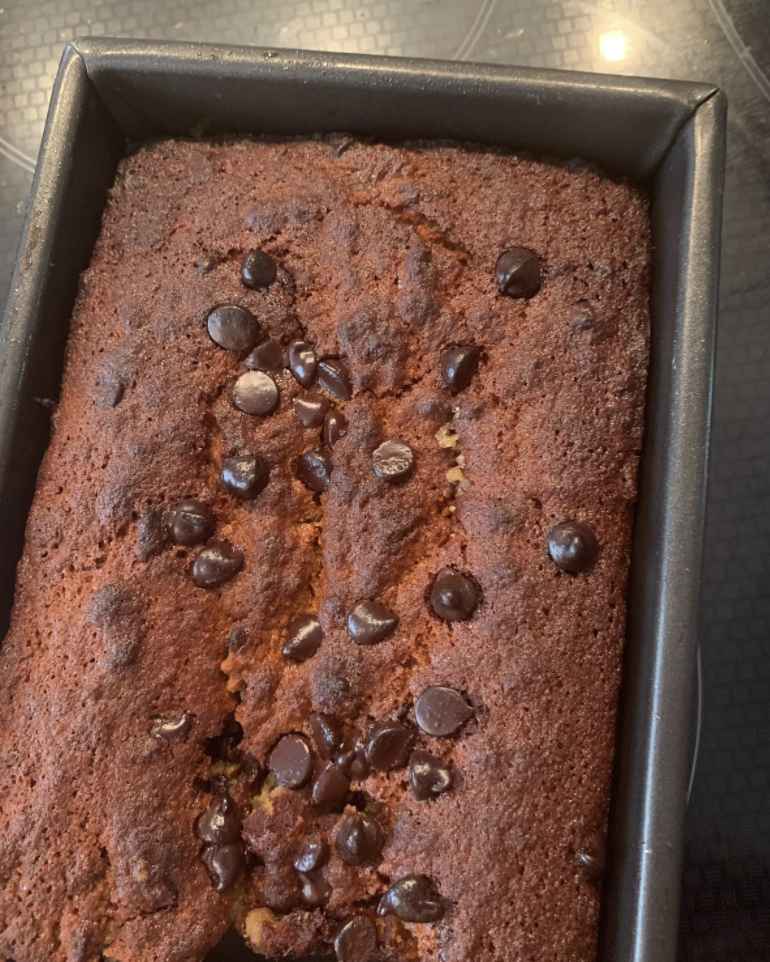 Notes
Optional additions to spice up your banana bread:
Mixins: If chocolate isn't hitting the spot, try folding walnuts in for a crunch, mixing raisins in for fruitiness, or adding toffee-bits in for sweetness. 
Toppings: Loaded banana bread is much better than plain! Try topping with nut butter (almond is my favorite), or a simple slab of butter with cinnamon.
Don't forget to check out our saved instagram story @archmeregreenarch , where we show you step by step instructions of each recipe!
*note: subbed almond flour for hazelnut flour from Skyler's original recipe found here: https://withskyler.com/2019-2-4-paleo-chocolate-hazelnut-banana-bread/
Ingredients
2 ripe bananas
2 eggs
¼ cup melted ghee
¼ cup honey
1 tbsp vanilla
2 cups almond flour
1 tsp baking soda
¼ tsp salt
½ cup dark chocolate chips
Instructions
Preheat the oven to 350 degrees.
Start by mashing the bananas, and add the wet ingredients (eggs, ghee, honey, vanilla) to the bowl.
Next, in a separate bowl mix the dry ingredients together (flour, salt, baking soda).
Slowly add the dry ingredients to the wet ingredients.
Mix in the chocolate chips.
Grease the loaf pan, add the banana bread batter evenly, and sprinkle with extra chocolate chips.
Place in the oven for 40 minutes, or until the top and edges are golden brown.
Remove from the oven and allow the banana bread to cool before serving.