Archmere Presents Once Upon a Mattress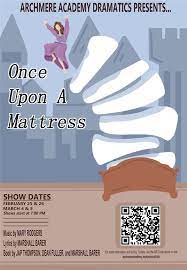 Calling all musical fans! From February 25 to March 3, Archmere Academy Dramatics will be putting on a production of Once Upon a Mattress for this year's winter musical. Since November, the show's cast and crew have been working with Archmere theatre director Mr. Manelski to make this play, once featured on Broadway, come to life on the Archmere stage. 
Once Upon a Mattress is a modern retelling of the classic fairytale of the Princess and the Pea with enchanting, hilarious characters. "This story follows the headstrong and boisterous Winnifred the Woebegone and the lovestruck, sheltered Dauntless the Drab as they fall in love and fight against the queen Aggravain to get married," says junior Cassie Matalonis. Although Winifred is "not the ideal persona of a princess," adds sophomore and assistant director Alicia Chu, Winifred is able to impress the queen in the end: "She ends up passing the queen's test of feeling a pea under 20 mattresses!"
The show features lots of elaborate dance sequences, which many cast members find challenging but exciting. Kaitlyn Kaulback '22, who plays the role of the Jester, has really enjoyed learning dances so far. "This is the first time I have ever danced by myself on stage," she says, "but I am having so much fun with the choreography!" 
Some cast members even find the dance sequences to be the most enjoyable parts of the show. Ensemble member Cassie Matalonis '23 says, "My favorite part of the show is the Spanish Panic dance, where the queen, in an attempt to tire out Winnifred, hosts a grand ball with elaborate and strenuous dancing. The dancing really is quite difficult, but it's very fun." 
In addition to playing roles in the musical, some of the cast members are taking on other tasks to help make the musical a success. Kaitlyn Kaulback '22 and Caileigh Crane '25 are working on publicity for the musical; so far, they've been making videos and posters to help promote the show, and they hope to advertise the show on a billboard. However, there are even more exciting things in store: "We have some fun things planned for the weeks leading up to opening night, so stay tuned for that!" Kaitlyn says.  
So why should people see Archmere's production of Once Upon a Mattress? This "fun, comedy-filled extravaganza," as described by Alicia Chu '23, will bring the Broadway spirit (that many people have been missing due to the pandemic) right to Archmere.
The show provides a perfect opportunity to relive the joy of a musical while engaging with the wonderful Archmere students who make it happen. Freshman Caileigh Crane puts it best: "It's a way to be a part of the school community and support classmates, and also to experience the joy and magic of live theatre right here at Archmere."