A Fantastic End to Fall Playoffs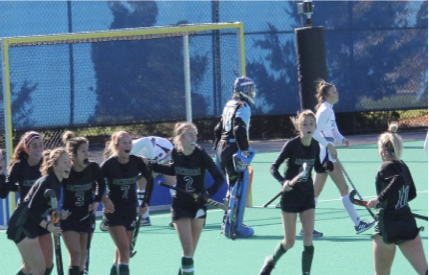 As always, Archmere's fall sport teams have not disappointed this year. Our foot- ball, field hockey, volleyball, cross country, and boys soccer teams all had exciting and successful seasons. At Archmere, fall play- offs are always packed with matches for our teams, but this year was exceptionally successful with four of our teams making it to their respective playoffs.
We Auks could not be prouder of
our 2022 season football team. After a victorious regular season, the team made their way to the playoffs. Following an easy 42-0 first round win against Concord high school, the Auks were all ready to show what they were made of in the quarterfi- nals. The team accomplished this goal by beating Howard in a shutout game in the quarterfinals. This was a particularly great win for the Auks, avenging their regular season loss against Howard. Unfortunately, the football team's playoff run ended in the semifinal round in a tough match against number one seed Caravel. Although we are sad to say goodbye to some of our star senior players, they and the entire team should be incredibly proud of their playoff run, and Archmere cannot wait to see how next season turns out.
The field hockey team also had an in- credible playoff run this year, with a win- ning record of 13-2. The field hockey team this year featured talented seniors, three of whom have decided to commit to playing field hockey in college. Bella Dell'Oso is off to Temple University, Becca Olsen will attend York College, and Lindsey Renshaw is heading to Rowan University. During the regular season, the Auks were able to avenge some of their defeats from last year including beating Padua 2-1 after having lost to them 1-2 in the 2021 sea- son. The field hockey team also claimed victory over Newark Charter who had beaten them last year in their semi final match, and won 7-0 against Caravel, marking the first time an Archmere field hockey team has won against Caravel. The Auks' playoff run to make it all the way to the state championship match was the definite highlight of the 2022 season. The girls began their playoff run by beat- ing Sussex Academy 4-0 in the Quarter- finals after receiving a first round bye. Next they faced Tatnall, who had ended their season with a 14-1 record, in the semifinals and emerged victorious after junior Bella Hughes scored an early game goal. After they scored, the Auks fo- cused on holding off the Hornets for the remainder of the game, leading them to victory. Finally this took the team to the State Championship, and although it was not the outcome they might have hoped for, we are all still very proud of them for how incredibly they played against DelMar. Some highlights of the championship game were goalie and junior Ava Hughes having 39 saves and senior Bella Dell'Oso scoring a goal against DelMar.
Archmere's girls volleyball team had a very exciting season this year going 12-3 and finishing as conference champions. Some of the highlights of the 2022 season for our volleyball team included exciting upsets against top volleyball teams at Ursuline and Padua. The team also took down the future 2022 state champion
Tower Hill team for Archmere's senior night game in straight sets. The team's playoff run began by winning 3-0 against Dover, but sadly was put to a stop in a close quarterfinal match against Caravel. Regardless, Archmere is so proud of the team and their incredible season.
The girls and boys cross country teams also both had successful 2022 seasons. The girls team had an outstanding run in the DIAA Championship, bringing home a second place trophy. The boys also did well coming in third place against 30 other teams. Junior Maddie Priest received a 3rd Team All-State award commemorating her terrific work this season. In addition, Richie Angiullo, Camilo Alvarez, and Taylor Costa were recognized as All-County athletes. Both of our cross country teams had amazing seasons this year and we can- not wait to see what they do next year.
Finally, boys soccer had a great season this year. The team featured 7 seniors. One of the season's highlights included the team closing out the year on a high note by winning their senior night game against Newark Charter High School, which also happened to be their last home game for the season. Even though the team did not make it to the playoffs, they still had a great season which should be celebrated by Archmere.