Ticketmaster Meltdown: Taylor Swift's Eras Tour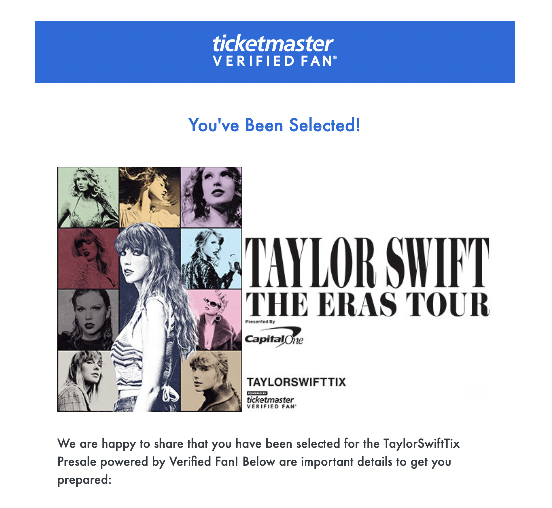 When Taylor Swift first announced The Eras Tour, her first worldwide stadium tour since the 2018 Reputation tour, Swifites all over the country immediately rejoiced. Soon after, the realization that attaining tickets would not be effortless or cheap set in.
After Taylor's iconic "Reputation" tour, the highest-grossing tour in U.S. history at the time, she proceeded to release four new studio albums and two album re-re- cordings. Her highly anticipated "Eras" tour would not just revolve around songs from her newest album, "Midnights," but would be, in Swift's words, "a journey through the musical eras of [her] career." So, even if Midnights wasn't your favorite, Taylor will perform music from her pre- vious nine albums, meaning there will be "something for everyone". However, there may not be enough tickets for everyone.
Fans were prompted to sign up for a Verified Fan access code and would be notified on November 14th if they were selected to receive a code to purchase tickets the next day. Over 3.5 million people registered for a code and 1.5 million people were selected to receive a code. Due to the unprecedented volume of fans attempting to buy tickets on Ticketmaster, about 15% of people attempting to buy tickets experienced issues with the site. Many of those who were lucky enough to have a chance to purchase tickets were victims of the "dynamic pricing" system, meaning tickets went up exorbitantly in price from their intended face value as a result of the high level of demand. Chaos ensued as tickets quickly sold and multitudes of fans lost their tickets before checking out.
Ticketmaster received backlash from fans, politicians such as Rep. Alexandria Ocasio-Cortez, and even Tennessee At- torney General Jonathan Skrmettian. The tour broke records when Ticketmaster sold over two million tickets on Tuesday during the Verified Fan pre-sale. After a similar occurrence during the Capital One Cardholders pre-sale on Wednesday, Ticketmaster canceled the general public sale set for Friday due to low inventory.
The general ticket sale was the only way for fans who did not receive a code or own a capital one card to even have a potential chance to buy tickets.
Swift broke her silence on the situation on her Instagram story. She stated, "It's really difficult for me to trust an outside entity with these relationships and loyalties, and excruciating for me to just watch mistakes happen with no recourse." Ticketmaster also released a statement apologizing, but fans believe it was too late and did not take enough accountabil- ity. Ticketmaster's involvement and lack of communication will definitely affect how customers perceive the company in the future.