Harvard Model United Nations
For the first time in several years, Archmere's Model UN team traveled to an out-of-state conference and won multiple awards. On January 27th, Ms. Witte and ten Archmere students set off for Boston to attend the Harvard Model United Nations conference (HMUN). Over the course of four days, the students debated hotspot global issues in Boston's enormous Marriott-Sheraton hotel. As one of the largest conferences on the East Coast, HMUN draws thousands of high school students from around the world.
On arrival, Ms. Witte brought the students to a pizza place in the nearby mall for a tasty dinner before committees officially began. After that, HMUN kicked into high gear as delegates met for over 24 hours in total, discussing topics from climate change to human trafficking. Our students represented China, tasked with working towards a unifying solution while defending the country's interests. HMUN's electrifying schedule almost caught us off guard as we rushed from hotel rooms to food courts and from elevators to committee rooms. Such a dynamic environment reflected the exciting pace and high stakes of international diplomacy.
Although committees were exciting and topics were intriguing, what really captured the students' attention was HMUN's global scale. The Archmere delegates met students from places as far as Venezuela and Kyrgyzstan. In committees, they made friends from North Carolina to Japan. While touring the mall or waiting for elevators, they talked with delegates from Taiwan to Texas. From start to finish, HMUN 2022 was truly an unforgettable and exciting trip.
Five Archmere delegates won recognition for their outstanding performance in committee, with two Honorable Mentions and one Diplomatic Commendation.
Archmere's delegates: Alex Chen '23, Tony Liu '23, Andy Zhu '24, David Konitzer '22, Richie Smith '23, Brendan McGuire '23, Leo Chang '23, David Cui '24, Brianna Yang '25 and Zimo Liu '25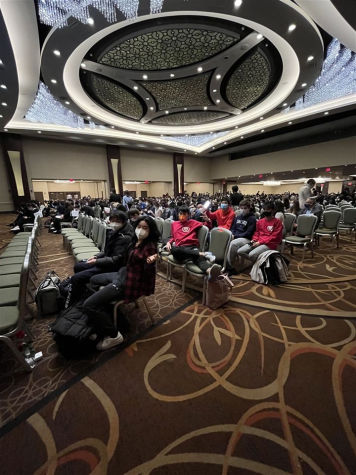 Model UN Club Info:
If you're interested in joining or have any questions, feel free to contact Alexander Chen '23 or Ms. Witte!