Hailing from a long line of teachers, Horning joins Archmere's World Languages Department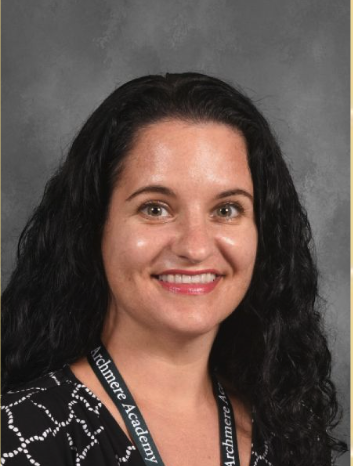 One of the newest additions to the Archmere faculty is Madame Therese Horning, a French teacher who previously taught at Mount Pleasant High School in the Brandywine School District. 
When asked about the similarities and differences between Mount Pleasant and Archmere, Madame Horning comments on the similarities between the Archmere and Mount Pleasant approaches, especially in the IB approach, the International Baccalaureate program offered at Mount Pleasant. However, Horning notes the distinct differences in the levels of curriculum, observing, "the Archmere curriculum is more rigorous and delves deeper, and is more fast paced when comparing the college prep curriculum to the college prep curriculum at Mount Pleasant."  
Horning speaks fondly about teaching: "I love the interactions with the students. I love seeing students make academic progress." Horning also notes,  "I also am interested in seeing my students as a whole develop, so I am happy when I see that my students are happy when they are not only involved in their studies, but they are also involved in some part of the Archmere community, whether it is sports or clubs, but that they are doing well both academically and also socially and emotionally."
When asked if there was a specific reason why she wanted to become a teacher, Horning refers back to her family, saying how she has come from a long line of teachers in which her mom, her aunt, and even her grandmother was a teacher, teaching in a one-room schoolhouse in Minnesota. 
Horning says she realized that she wanted to become a teacher as a student in college, mentioning how throughout her youth, she always applied for summer jobs as a camp counselor, noticing her preference to work with children at a camp, foreshadowing her future career as a teacher. 
When analyzing how Covid-19 has impacted her way of teaching,Horning confesses that Covid has forced her to alter her normal teaching preferences. She points out how it has influenced partner work and has caused her to focus on the importance of safety in group work such as proper sanitation and proper social distancing. "It has been a challenge," Horning states, "There's some things that we don't do this year that we used to do." Yet Horning looks on the bright side, pointing out, "For the most part, it's just nice, I at least feel that it's nice to at least be able to be together."
Horning examines the pros and cons of teaching during a pandemic such as Covid, highlighting the challenges that Covid has caused for teaching foreign languages where interactions between people is essential to developing the skill and knowledge of the language properly. She says, "I really have tried to maximize the time that I have with the students live to do interactive activities, I want the students to hear me speaking French, I want them to hear an audio recording of a French person speaking. I want to hear them speaking to each other, interacting with one another. And things like watching video tutorials and doing Ed Puzzles and completing written assignments as well as listening assignments, that's all important but I know I can have my students do that during the asynchronous assignment." 
When asked about her favorite aspect of Archmere, Horning remarks on one of the many distinct qualities unique to Archmere that everyone notices, "The community. I feel like this is an ideal learning environment for both teachers and students."