Justice Ruth Bader Ginsburg, Leader in Social Equality, Dies at 87 
On September 18, Ruth Bader Ginsburg, the second woman to ever sit on the Supreme Court, died of complications from pancreatic cancer at age 87. Aside from her historic place on the Supreme Court, she was known for her fierce dissenting opinions and even fiercer work ethic. 
Ginsburg graduated from Cornell in 1954 ranking the highest of all other female students, where she also met her husband and biggest supporter Marty Ginsburg. After moving with Marty to Oklahoma post-graduation for his military duty, she took a job as a Social Security Administrator; however, she was demoted after becoming pregnant with her first child.
Despite the prejudices against women in the workforce during that time, she and Marty moved to Boston to pursue law school at Harvard. She was one of nine women in a class of 500. At a dinner party with the dean of Harvard Law, she along with all the other women in her class were asked by the dean "Why are you at Harvard Law? You're taking the place of a man." 
Justice Ginsburg never let the dean's words or anyone else's opinion discourage her from her goals. While raising a toddler, taking care of her husband who was dealing with health issues, and studying 
law at Harvard and later transferring to Columbia, she still managed to graduate at the top of her class. 
Even with all her top marks and credentials, Ginsburg still struggled to find work post-graduation. She had children and a husband with a well-paying job; therefore, employers questioned why she'd defy the norm and aspire to have a career in law, a man's career. Still, she persisted, gaining opportunities from judges and firms who tested the invisible boundaries set against educated women of that time. She began as a law clerk for Judge Edmund J. Palmieri in New York City in 1960. Later she traveled to Sweden between 1961-1963 to study a case in civil procedure, eventually gaining a position at Rutgers University School of Law in 1963, and finally becoming the first woman tenured at Columbia Law School from 1972-1980 and co-writing the first casebook on sex discrimination. 
Justice Ginsburg's list of accomplishments goes on, even before her appointment to the Supreme Court. She's had her hand in numerous organizations and cases focusing on sex discrimination and equality; she co-founded the Women's Rights Project at the American Civil Liberties Union and worked on the sex-discrimination-based cases of Reed v. Reed, Weinberger v. Wiesenfeld, and Duren v. Missouri.
In 1980, by the appointment of President Jimmy Carter, she was confirmed by the Senate to sit on the DC Circuit Court of Appeals. Thirteen years later, under President Bill Clinton, she was nominated for the Supreme Court and appointed on a Senate vote of 96-3. Ginsburg was sworn into office on August 10, 1993.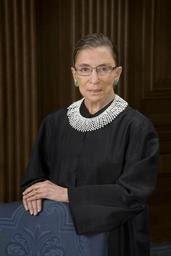 While on the Supreme Court, Ginsburg was known for her impactful dissents on cases like Ledbetter v. Goodyear, a case regarding pay discrimination on the basis of gender. This case, as well as others such as United States v. Virginia, is an example of her persistence for ensuring gender equality and social equality in America. Although she remained steadfast in her political opinions, she was known to get along well with her conservative counterparts, especially proud conservative Antonin Scalia, facilitating moderate discussions and debates within the court. 
Her strength in the court brought about a burst of popularity surrounding her in pop culture. Her nickname "Notorious RBG" is not only a reference to the rapper The Notorious B.I.G. but also to her outspoken power amongst her Supreme Court peers. Furthermore, her friendship with both colleague and political opposite Antonin Scalia was dramatized in the opera Scalia v. Ginsburg by Derrick Wang. 
Republicans and Democrats alike have spoken to her credit. President Trump upon hearing of her death stated, "Her opinions, including well-known decisions regarding the legal equality of women and the disabled, have inspired all Americans, and generations of great legal minds." President Obama concurred in his obituary of the legend, writing "Ruth Bader Ginsburg fought to the end, through her cancer, with unwavering faith in our democracy and its ideals."
After her death, hundreds of Americans met on the steps of the Supreme Court to honor Justice Ginsburg and pay their respects. In a very sweet moment during her viewing at the Capitol and Supreme Court, her personal trainer did a few push-ups in her honor. Throughout her decades-long career, Ruth Bader Ginsburg has been a champion for not only gender equality but also equality for all American citizens, women's health rights, as well as workplace and professional safety for minorities. Her persistence and power on the court and on paper has not only made her a legal legend but also a political pop culture icon to last the ages. 
Sources: 
Supreme Court Justice Ruth Bader Ginsburg, Champion of Gender Equality, Dies at Age 87: NPR
Ginsburg, Supreme Court's Feminist Icon, is dead at 87: NYTimes