1 Pisani + 1 Pisani = 2 Pisanis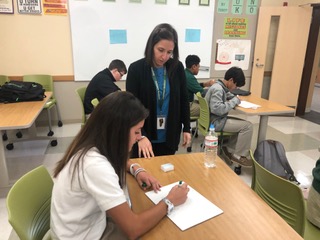 It may be no surprise that Mrs. Carly Pisani's favorite memory in college was in a math class– where she met her future husband and present co-worker.
         Mrs. Pisani joined Archmere as an Algebra I teacher and is able to work diligently every day while still skillfully juggling her position as a mother at home. She grew up in New York, but decided to go to the University of Delaware for college. Because she enjoyed being in Delaware over New York, she decided to move here because people were friendlier  and items less expensive.
For her first job in Delaware, Pisani worked at Delaware Military Academy for eleven years, and as of this year has taught every single math course ranging from Algebra I to AP Calculus. She really enjoyed DMA, but when she saw an opportunity open up at Archmere, she could not pass it up.
         "Students here really like being here," said Pisani. "They seem happy towards each other."
         Inside the classroom, Mrs. Pisani uses a variety of different teaching methods, including small dry erase boards, Khan Academy, Kahoot, and Quizizz. Her students enjoy Pisani's style of teaching and how she cares for students as individuals and not just another one of her classes. Not only do her students like her in the classroom, but they also enjoy seeing her outside of the classroom as well.
         "I think she is a really good teacher. She likes to help us out when we are struggling, and I think the homework she gives is not a lot but I think it's a good amount," said freshman Allison Lengkeek. "When I see her in the hallway she normally gives me like a smile or a nod or says hi."
         Although this is Mrs. Pisani's first year teaching at Archmere, she has been involved in certain school events in the past because of her husband, Mr. Pisani, a fellow math teacher. She already felt comfortable with certain staff members before she came to Archmere, which helped her transition even easier.
"It's really nice to get to see her at work every day. It's nice to have her be a part of this community," said Mr. Pisani. "She has always come to a lot of events here, and has been a part of the community, and now to have her full-time part of it is special for us in our household."
About the Writer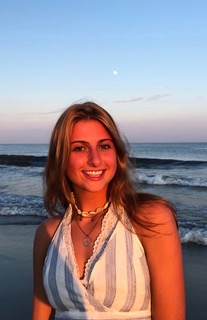 Fiona Teaney, Staff Reporter
Fiona Teaney is a senior at Archmere Academy and is a first-year journalism student. Outside the classroom she enjoys spending time with her friends and...