Winter Sports Season Has Arrived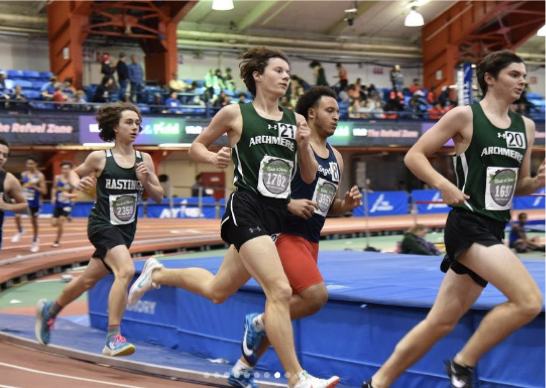 After the successful end to fall sports, Archmere is feeling the buzz about the future of our winter sports teams. With a new season comes new excitement and en- ergy. This winter season has many exciting sports for students to enjoy.
The boys and girls swim teams' training is in full swing as practices started recently and their first meet was Thursday, Decem- ber 8. The girl's team came away with a win. The girls team started the season 4-0. As the boys team lost a number of swim- mers when the sports credit dropped, they have their focus set on rebuilding their team and coming back stronger. Kathryn Pyne '25 states that both teams "have a lot of talented swimmers that will be fun to watch this season."
Girls basketball is also off to a good start as both the Junior Varsity and Varsity teams have won their first games of the season. Coached by Daniel Pisani and Kyle Carty, the team claims to have high hopes for this season. The captains for
this season are Sara Denning '23, Brynn Bastian-Pastore '23, and Lydia Scarpaci '23. Carly Polsky '25 claims that basketball games are "a really positive environment and a really exciting sport to watch". Many people have claimed to enjoy the close games that are intense and high stakes. Last year's close 38-36 win over Ursuline was definitely a highlight for many players and supporters. After making it to the Quarterfinals last year, the Auks hope to achieve that level and continue on.
Coached by JR Creekmore and Mark Hannagan,the boys and girls Indoor Track teams are also a sport to watch this winter. The boys team captains are Matt Guariano '24, Alex Holt '23, and Patrick Shields '23, while the girls team captains are Gabby Henry '23 and Maddie Priest '24. Last sea- son had many highlights such as the girls team winning 7th place in the state, which is the team's best finish ever. They hope to have similar placements for both the girl's and boy's teams. Coach Creekmore describes his team as "resilient" in the way that they embrace the cold temperatures. This team is very determined and it is a great sport to get involved in.
Finally, the wrestling team is coached by Michael Brainard and Travis Testa. They ended last year with a 5-7 record, and the DIAA Individual Championships were very successful for many athletes at Archmere. Their first match was against First State Military Academy on January 4th.