Helena Raskob Arts Institute Concert Continues Performances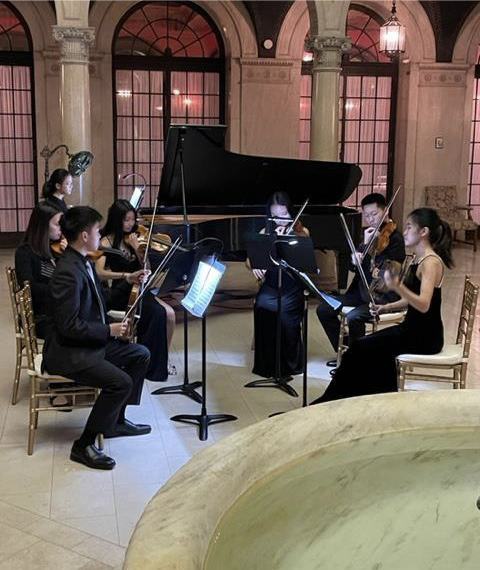 On November 4, the Helena Raskob Arts Institute had its first recital of the year. This exciting occasion marked the beginning of the Institute's second year at Archmere. HRAI, which is run by Mrs. Mary Ellen Schauber, offers opportunities for Archmere students to practice and perform music in the Patio. Along with private lessons in piano and voice, the Institute also hosts a chamber group, which performed the first movement of Chevalier de Saint-Georges' "Quartet No. 4" at the recital.
Saint-Georges was an accomplished com- poser who is often referred to as "the Black Mozart." However, because of his race, his music has largely been erased from history and culture. By choosing to perform his Quartet No. 4, the Institute hopes to play a part in the preservation and celebration of his work.
This year the Institute welcomes two harpists, Andres Ramos '26 and Valentina Ramos '26, both of whom performed at the recital. In addition to the harpists, Anne Cecile Kittala '26 sang Carl Strommen's "To the Sky" and was accompanied by Chloe Li '26 on the piano. The Institute continues to expand in variety and talent, leading to an enchanting repertoire for the night.
The recital was graced by many other talent- ed musicians. One of the many highlights of the night was Helen Qi '23 and Daniel Qi '26, who performed the Passacaglia duet for violin and viola. Helen Qi is one of the student lead- ers of the Institute, and she works with Mrs. Schauber to ensure that the Institute recitals never disappoint. Returning singers Alicia Chu '24 and Maile Gutsche '23 delivered vocal performances, and Grace Chen '24 wrapped up the night with various pieces by Ginastera, Chopin, and Ravel. The recital was followed by a reception in the Patio.
As Mrs. Schauber said in her closing remarks, the recital was truly a night to remember.