New Teachers, New Era: How Archmere's New Faculty Members are Adjusting among COVID-19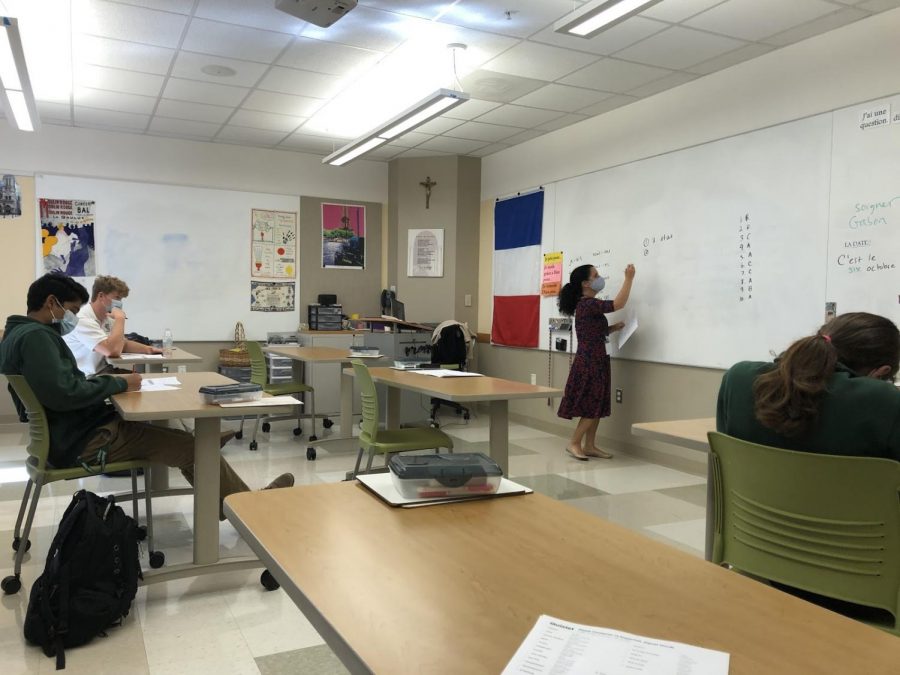 Amid an unusual start to the school year, Archmere introduced three new members to its teaching staff: Ms. Leah Davidson-Wolf (Biology); Madame Therese Horning (French); and Mr. Robert Janoski (English/History). 
During the week before school started, these new teachers participated in the New Teacher Orientation program, led by Madame Cooper and Dr. Archer. Although a few changes to the program had to be implemented due to the new COVID-19 guidelines, the teachers say that the event went smoothly.  
Dr. Archer, one of the leaders of Archmere's New Teacher Orientation program, said that, "All of these people come to Archmere with experience in their fields, and our discussions during orientation were filled with new ideas and best practices. Orientation to a new school during COVID-19 does present additional challenges, but luckily these individuals are up to the challenge and even had additional ideas on handling COVID-19 safety issues."
Despite the challenges of arriving at a new school and teaching during a pandemic, Archmere's new staff members have enjoyed their first few weeks of school so far. 
"The Archmere community is incredibly supportive to new members, so the transition has been very smooth!" said new biology teacher Ms. Davidson-Wolf (or Ms. DW, as she is better known by her students), "The onboarding process provided me with a lot of opportunities to ask questions and learn about those supports." 
In addition to adjusting to a different school environment, Archmere's new teachers needed to alter their classroom activities and lesson plans to meet the COVID-19 guidelines. 
"COVID-19 has impacted almost everything I do," said Mr. Janoski, who arrived at Archmere after teaching at Cristo Rey in Philadelphia for the last five years. "I am a firm believer in the importance of all of our school's restrictions, in the seriousness of this virus, and of the necessity to do our part to curtail it. However, this requires a lot of creative thinking and hard work."
These new teachers will also not be able to experience Archmere's wide variety of activities outside of the classroom, such as school dances and liturgies, in the same way they would have in the past. 
Madame Horning, who came here after being a French teacher at Mount Pleasant High School in Wilmington, DE, weighed in,: "I wish Archmere could have dances and other community events. I miss those fellowship events." 
Although COVID-19 has posed many challenges for a proper introduction to Archmere for the new teachers, the school community trusts that they are receiving a warm welcome regardless of the restrictions. Madame Thiel, Archmere's new principal, says, "My biggest hope for them is that we can continue to connect — masks or no masks!"
About the Writer
Natalie Gildea, Editor-at-Large
Natalie Gildea is a sophomore at Archmere Academy, and she is super excited to write interesting stories for the Green Arch this year! In her free time,...