A Time to Re-Examine the Girl's Winter Uniform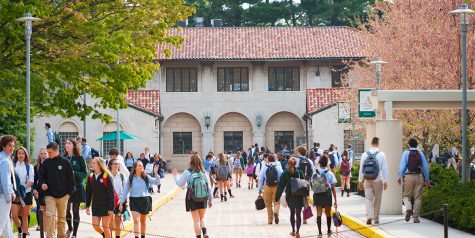 Almost all of us at Archmere like the idea of a uniform. It makes the mornings easier. We can just wakeup and not have to think about what to wear. We, as students, love the idea of a uniform, but we're not completely happy with our current choices.
We know that uniforms are here to stay at Archmere, but we would like to address a few issues. Our requests specifically involve shoes and the girls' winter uniform.
Regarding shoes: girls and boys are both given the option to wear Sperrys, dress shoes, or flats. In the spring and fall, the Sperrys work well–they are simple and easy to slip on.
But in the winter, the Sperrys develop problems. Most Sperrys do not have ample support for our feet, and at Archmere we do a good amount of walking around because of the size of our campus. Along with the lack of foot support, Sperrys have little insulation for our feet, leaving our feet cold and wet in the winter weather. Wearing dress shoes or flats doesn't resolve the problem because neither have the warmth nor support we need. One proposed solution would be to allow us to wear moccasins or sneakers, which are more
comfortable, warmer, and (in the case of sneakers) supportive.
With regards to the girls' winter uniform, the only thing that changes from the spring uniform is a different shirt. A problem that arises during the transition to winter is the expectation to wear the same skirts. The administration suggests that the girls wear tights to stay warm. In theory this is a good idea, but in reality, it's not. The tights come in a limited range of sizes, rip easily, have little insulation (especially around the feet), and are itchy and uncomfortable to wear under the shorts-like skorts.
In response to our complaints, the administration suggests that the girls should wear khaki pants. As fair as this sounds, we have to plead that khaki pants are not made for girls' bodies. One potential solution is allowing girls to wear a different style of pants during winter. At Padua Academy, an all-girls Catholic school, students wear pants during the winter that are made for girls' bodies, are presentable, and have a good reputation among the students as both warm and comfortable. This is the type of solution that we need to look into.
A good learning environment consists of being comfortable and warm. So being given the option of tights, khakis, Sperrys, dress shoes, and flats do not make a good learning environment. Respectfully, we would like to see a change.